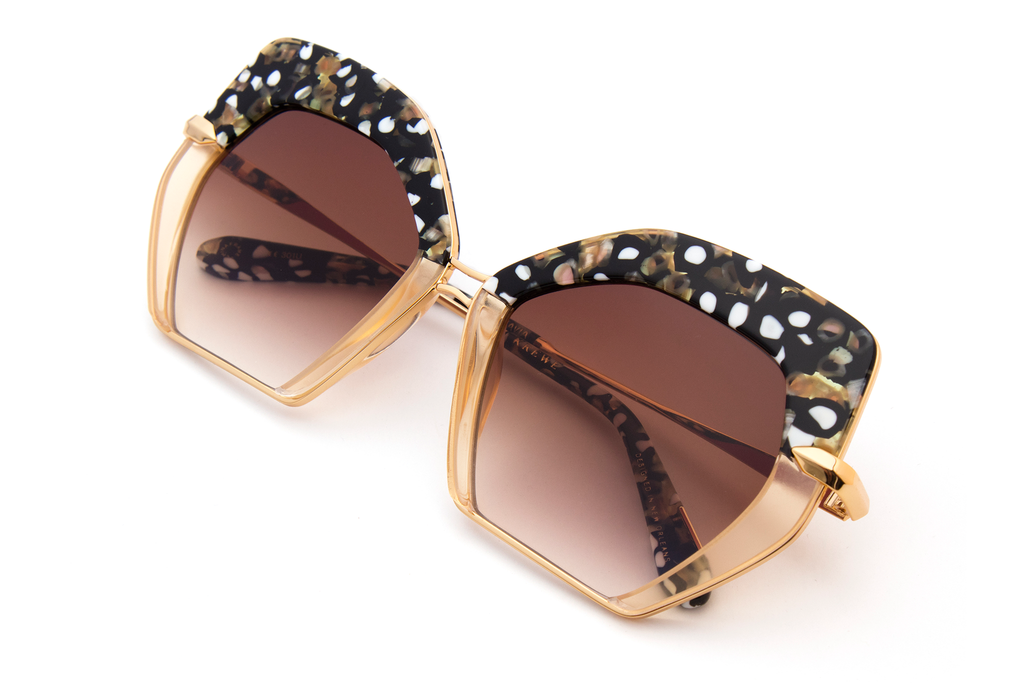 Octavia is large and in charge. These brilliant cat eye sunglasses were introduced to KREWE's collection in late 2016 starting with four colors:
Octavia's Unique Colors!
Interstellar to Black 24K (tortoise like pattern with iridescent flecks)
Black with crystal 24K (sleek and shiny black with crystal accents)
Plume to Champagne 24K (feature below)
Magnolia Rose Gold (pearlescent white with mirrored lenses)
While KREWE only lists this style as recommended for a heart shaped face, we'd say the softer angular shape of Octavia is suitable for a round face as well. Actually, we've seen this particular model work well with oval and squared faces – so really, we think all shapes should try this out.
Simply put, Octavia is exceptional in optical, not just opulent and unique cat eye sunglasses.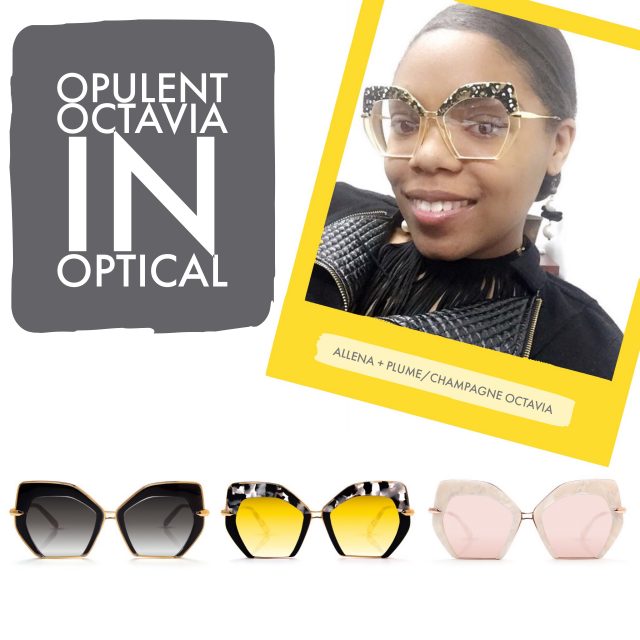 This frame is NOT just diverse in color but also fit.
If you're looking for the perfect prescription cat eye sunglasses or just oversized unique glasses, we certainly recommend Octavia! This is great choice if frames are always too small and you need glasses for a wide face. KREWE's page lists the style as part of their Asian fit eyewear collection (aka universal fit), likely due to the longer than average nose pads. (read more on the challenge of finding eyewear that fits: advice for petite faces, big noses, shallow bridges, wide faces, etc.)
Prescription Sunglasses that Aren't Boring
Love that rose gold mirror lens? Or maybe you envision something a little different like Octavia in black with colorful lenses… You don't have to sacrifice personal style or lens quality, we've got you covered if you're looking for unique prescription sunglasses or want to achieve the same look KREWE offers with your correction.
Want KREWE sunglasses with your prescription? Message us (you don't have to be in Houston)
---
Details
Specs
Octavia measures 54-18-140 and features hardware plated in 24K gold for a "luxurious finish and lasting durability".
KREWE's Description
Octavia's oversized silhouette, with its unique metal inlay, makes for a lightweight frame that reimagines the Uptown street's late 20th-century architecture.
Summary
We call Octavia a pair of brilliant cat eye sunglasses because of superior qualities like diverse fit due to the shape and design coupled with unique colors. Bonus: We've got a sneak peek at some of the unique and colorful cat eye options in KREWE's near future, or at least we're hoping they make it to production. Pics soon, stay tuned.