Ever wonder what those numbers mean on your glasses? You know, numbers like 50-20-145 or 45-22-155?
Well, we're here to pull back the curtain and give you some insight on measurements and fit.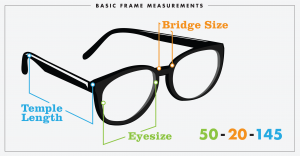 Eye Size
The horizontal measurement of a lens at its longest point.
This is referred to as the A measurement.
Bridge Size
Called the DBL measurement, Distance Between Lenses.
Temple
The length of each "arm" piece of the frame that runs down the side of your head and over your ears.
---
What can I do with these numbers?

Use them to compare and contrast.

Consider the measurements, shape, and fit of your current frame or one you tried on in real life.

Frame measurements don't take certain things into consideration.
For example, a thick frame will add additional length and height to the face.

The numbers are usually measured in millimeters and written in a standard format, which represent the eye-bridge-temple. You'll almost never find the B measurement etched on your frame but sometimes you will see measurements in inches, especially on vintage glasses.

Additional numbers can represent the model (mod), color (c or col), or a proprietary reference for the maker.

Interesting fact, there was no one standard by which all frames were measured until the early 1960's.
[ref: Fannin & Grosvenor (1987). Clinical Optics (p. 106), Butterworth]

Just like clothing, a proper fit in your eyewear is important.


Think of professional adjustments like going to the tailor.

Smith's always does complementary adjustments for your glasses, stop by if you're in the area.
All of our frames are made of optical quality materials and can be adjusted by a local professional.

Many of our customers wear an oversized frame comfortably because it is adjusted to fit correctly.
A professional can adjust frames that are falling off your face, feel too snug, or sit crooked on your face.

We make an effort to stock glasses for all sizes including petite/narrow/small and wide/large/big.
Universal fit options are available as well, this is for those of you with a shallow or narrow bridge.