Need to do some last minute holiday shopping in Houston?
We've got a few suggestions on where you can find
thoughtful and unique gifts
. The map below is categorized and includes all of these shops plus many more.
---
The icon indicates hours for 12/24 (Christmas Eve Day) & any additional special holiday hours.
---
Oh yeah, in case you didn't know, you can purchase a Smith's Opticians gift card online.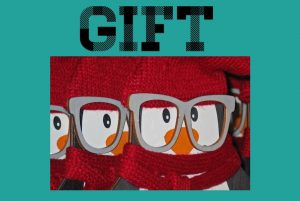 Quite possibly the most practical and fashionable gift card in town.



Time Crunch?

---

Space Montrose in Montrose (*gasp)
until 3 PM One stop shop for home goods + kids + stationary + Houston & Texas themed goods.

---

The D&Q Beer Station in Montrose (806 Richmond Ave)
Open until about 8 or 9. Give 'em a call to be safe (832) 705-0715
Their wine and beer selection is unbelievable and it includes plenty of affordable options. Don't be afraid to ask for recommendations.

---

Big Blue Whale in The Heights 9 AM to 7 PM until 12/23 9 AM to 4 PM on 12/24 for the little ones & conveniently located in walking distance of at least a dozen shops along 19th Street

---

Cactus Records near Amy's on 59 @ Shepherd
10 AM to 7 PM music, concert tickets, general gifts, and gift cards Snag a bottle of the Big Daddy's Ass Burn Hot Sauce, it's made in Houston 🔥


more record shops on the map:

All Records (Greenway/Upper Kirby), Deep End (at Walter's Downtown), Heights Vinyl, Sig's Lagoon (Mid Main), Sound Exchange (Upper Kirby), Wired Up

---

Back to Top
Skip to Map



Additional Spectacular Considerations

---

Bedrock City Comics on Washington Ave
(all locations on the map below)
comics, books, toys, games, apparel

---

The Classroom in Rice Village
10 AM to 5 PM

---

Game Guys Warehouse South Outer Loop The Mario themed warehouse visible from 45.
closed on 12/24 & 25
Gift your video game lovers a trip here for events, lock-in's, cosplay, tournaments…

---

Geek Life in The Heights (look for the TARDIS)
(713) 864-2880
Games, game accessories, and space to play + events.

---

Hello Lucky in The Heights
11 AM to 3 PM & 7 days a week until 12/24 Houston &
Texas themed apparel for all ages, accessories, jewelry etc.

---

Insomnia in The Heights
(281) 440-1405
art, toys, and geeky gifts TIP: across from Hugs n Donuts & Fat Cat Creamery (great stocking stuffers or get yourself a treat)

---

Manready in the Heights
(713) 861-6618
A variety of gift options, menswear, and masculine accessories.

---

My Flaming Heart in the Mid Main area (close to Smith's)
(713) 533-1147
Vintage & quirky gifts, unique & one of a kind clothes

---

Myth and Symbol in Rice Village
11 AM to 7 PM plus Monday's through the holiday season
Unique and on trend jewelry, accessories, and women's clothing.

---

Replay Vintage & The Place Upstairs in the Mid Main area (close to Smith's)
(713) 294-0245
The reincarnation of Replay on 19th + their sister shop full of oddities and vintage trinkets.

---

Reserve on Washington Ave next to Catalina Coffee and Cut Throat Barbershoppe
(713) 750-9582

---

Retropolous & Yoko Vintage in The Heights
11 AM to 6 PM
2 story vintage shop with a very wide selection

---

Saint Cloud in Rice Village
10 AM to 6 PM
home goods + accessories + kids + women's (near Cloud10 Creamey and Myth & Symbol)

---

The Wilde Collection in The Heights on Yale
(713) 931-1904
Interesting oddities for truly unique gifts (includes taxidermy items).

---

TX/RX Labs on the east side
Gift a class or a membership. Learn a new skill or improve upon an existing one.

---

Back to Top
Skip to Map
There are so many great places in Houston we surely missed at least one or two.